The Animal Kingdom – you are not invited
Powerful people compare us openly with vermin, because our mere existence contains contradictions to the dominant ideology. The majority feel threatened by us – a non-Dane and a non-hetero. Therefore they threaten us. To fight against will create further conflict. Therefore, we embody the idea and meet the majority as dancing vermin. Next meeting takes place at Bådteatret June 22nd-25th 2019 as part of Ubåden.
The Animal Kingdom – you are not invited (2016-now) is the working title for a collaboration between Linh Le and I. We have done three performances so far for Landscape Scenographies, For a Moment: Singularity and Vejret nu. The performances are described below.
Linh Le and I are developing methods inspired by animals to discover and express paradoxes that lie in the repression of minorities. One paradox is the relation between repression and freedom. We experience that on one hand the repression makes us less free and on the other we are free from the social restrictions of the majority. As such we are free to create our own communities, we are free from the responsibilities of the majority and we are free to reinvent ourselves. Those are our privileges. This puts us in a position where we can experiment artistically with identity, culture, politics, etc. in ways the majority can not. We experience that the majority do not consciously acknowledge our position; the majority feels easily threatened. They fear the loss of power that could potentially follow from the development, transformation and new perspectives our artistic experimentation would cause. The majority's fear of our artistic experimentation causes further repression in the shape of limitations and control.
Linh and I have developed anger towards this repression. Anger that we repress because it is not accepted in any community; expressing anger is seen as putting yourself in the role of a victim and not being able to control yourself. But nevertheless, the anger is there, and we believe it needs to be expressed. With The Animal Kingdom – you are not invited we investigate how to express the anger artistically, taking into consideration the paradox between suppression and freedom.
We work with our inner animals, because we find that they can represent feelings and elements of ourselves that are determined by other social norms than existing ones; various animal communities exist side by side with our human society, yet they have other rules for when and how feelings like anger are expressed. By finding our inner animals, we can express "forbidden" feelings such as anger. In this way, the collaboration is a continuous experiment to see how our inner animals can be used in this context.
Laver lidt koreografi sammen med performer/danser/koreograf Linh Le @linhtuyetle @vejret_nu #vejretnu #choreography

Slået op af Peter Vadim i Mandag den 19. marts 2018
The film above is from a rehearsal for Vejret nu. We are developing our animal characters and material. The video below is me developing my character as a hen/rooster.
Er jeg en høne der tror den er et menneske? #vejretnu #høne #menneske #laotzu

Slået op af Peter Vadim i Mandag den 26. marts 2018
Linh and I have developed our methods in various projects since 2016. In june 2019 we are performing at UBåden. Below, three different projects are described: Landscape Scenographies, For a Moment: Singularity and Vejret nu:
Landscape Scenographies (2016)
Landscape Scenographies (2016) are students at the Urban Intervention Studios by Bettina Lamm and Laura Winge, University of Copenhagen, who have designed and built six landscape scenographies that stage the landscape of Teaterøen by adding new layers of accessibility, experience and meaning.
Linh Le and I was hired to activate the installations choreographically in relation to materiality and shape. Together we improvised our way through the scenographies.
It was a way for us to explore how choreographic manifestations of narratives help put new meaning in to materiality and shape. Narratives that was different than the traditional ones about a boy and a girl, because of our untraditional relation to the world given our status as minorities.
This was our first step into the world of animality where we experienced how we were able to express repressed feelings.
Supported by University of Copenhagen
For a Moment: Singularity (2018)
For a Moment: Singularity (2018) is a performance by Linh Le. The performance is a four hour long performance that she designed and analyzed as subject field for her Master Thesis in Performance Design, Roskilde University, spring 2018. The performers are Linh Le, Christian Otto Madsen and Peter Vadim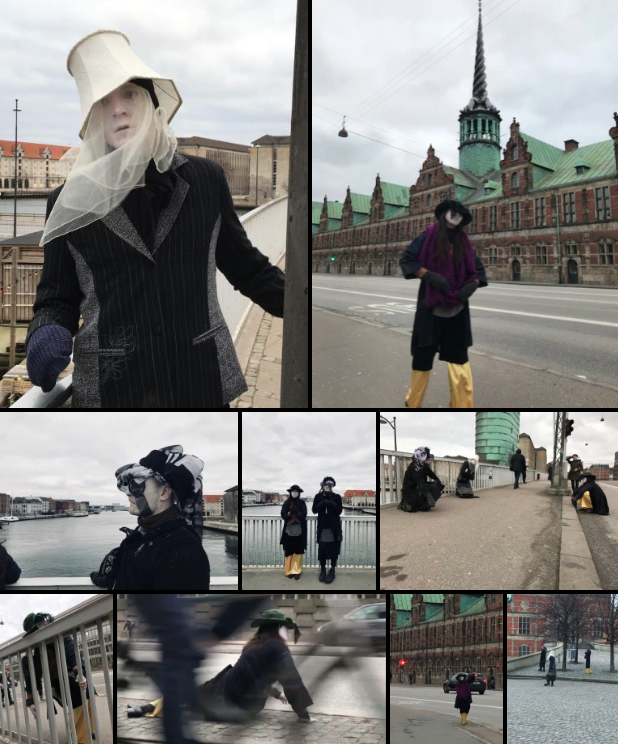 In her thesis, she explores the potential of dance as liberating in our relationship to urban spaces. We danced hyper-slowly through the city of Copenhagen in order to resist the rhythm of the city and the choreographed life.
She wanted to find out what emerges when movement patterns change in our everyday life and what kind of experiences that will emerge, not only in ourselves but also in our relationship to each other and to the city.
We worked with how Butoh Dance are able to depersonalise us and thereby let us be possessed by various beings and states. We strove to what Sumako Koseki describes as changing the intention of our minds into spontaneity and thereby our humanity into animality.
Vejret nu (The Weather Now) (2018)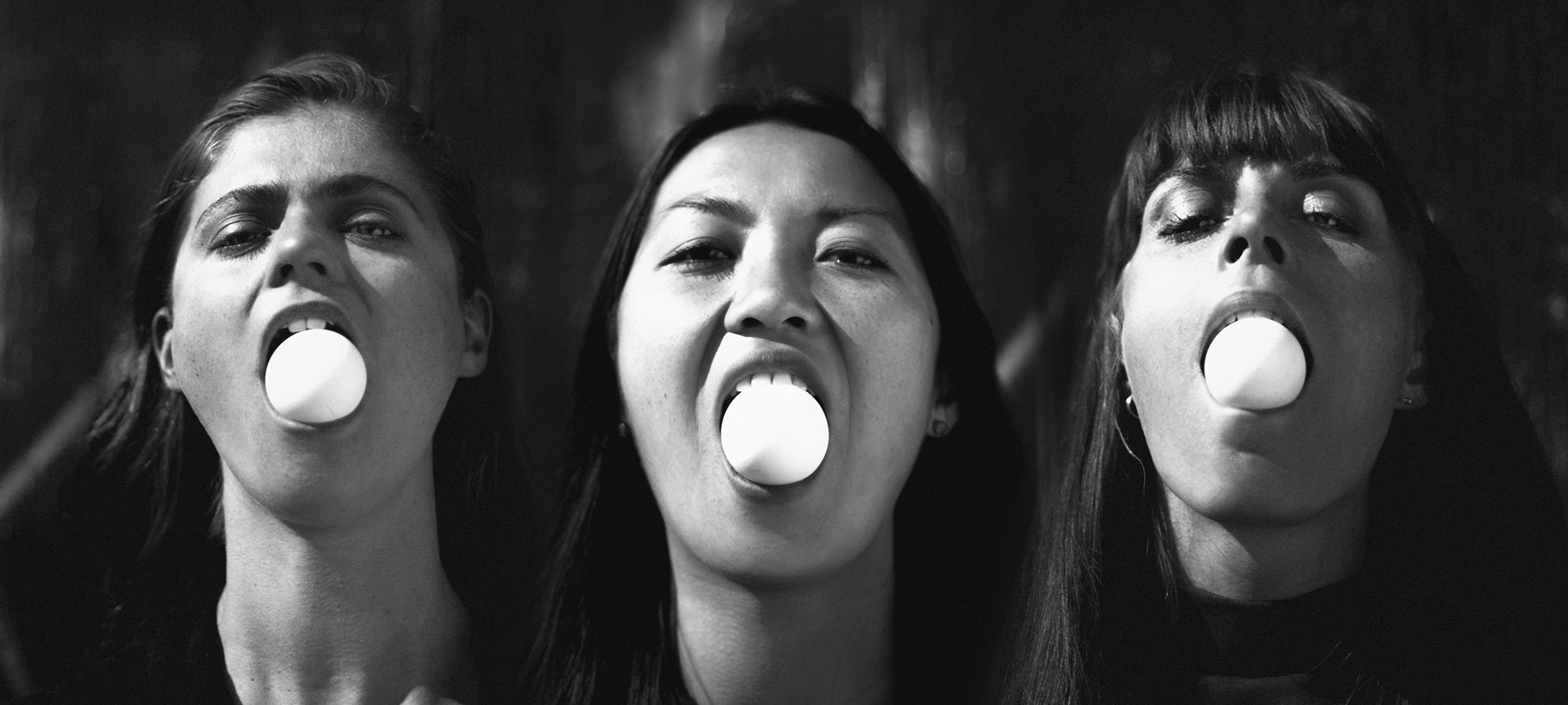 Vejret nu (The weather now) (2018) is a show by Maja Gry where we recall the darker aspects of Per Højholt's nature poetry. Each artist shows different sides of him. In this way his ambiguous and contradictory relationship with nature is expressed.
We performed April 2018 in Teaterhuset, Copenhagen, May 2018 in KVUC, Copenhagen, November 2nd in Esbjerg Gymnasium and November 16th in Poesiens Hus, Copenhagen. Links for more info: Esbjerg. Copenhagen.
Linh Le and I are working together as dancers and choreographers. We decided early to be one person expressing each our side of Per Højholt as a way to work with the contradiction in his view on nature. For each performance we develop this relationship and in this sense the show is different every night.
In general the show is very playful and like that it changes every time we perform: it evolves around the music, that is inspired by Per Højholt's love for Jazz, Punk-Rock and loop music and opens up for a lot of improvising. The music is available here. In the video below Linh Le and I are improvising in body suits covering the whole body and face. The suits are masking our humanity and bringing out our inner animals.
Natlig Manøvre med Lyn, Vejret Nu

Fortolkning af Natlig Manøvre med Lyn sammen med Peter Vadim til Aske Andersens lyddesign #vejretnu #perhøjholt #xenon #teaterhuset Vi spiller til og med d. 28. april på Xenon, Huset på Magstræde

Slået op af Linh Le i Tirsdag den 24. april 2018
Besides the show we also offer teaching in how to work artistically with poems and how to integrate nature in artistic work.
Vejret nu is initiated and developed by Maja Gry who also composed the songs. The other participants are Aske Andersen: sound and music, Ida Andreasen: film director, Eirik Lia Hegre: light, Mia-Maja Krumphardt: teaching and PR. Linh Le: dancer/choreographer, Christian Otto Madsen: actor, Sebastian V. Olsen: sound engineer, Johannes Vaht: double bass, Anders Vestergaard. drums. Furthermore Szymon Pimpon Gasiorek: drums, Jeppe Alsgaard Pachai: actor and Lukas Toya: actor were stand-ins for a few shows.
Vejret nu is supported by: Signe Højholt, Gyldendal, Politiken Fonden, DMF, A.P. Møller Fonden and Oticon Fonden.