We are 7 artists working together on Performing Landscapes Bornholm. The title is Rock Bodies and we each interpret the questions: How are our bodies connected to the geological body of the island? Which narratives are hidden in the rocks? How has the landscape changed through time? Rock Bodies is due at Kulturugen Bornholm in September 2023. Link to performance here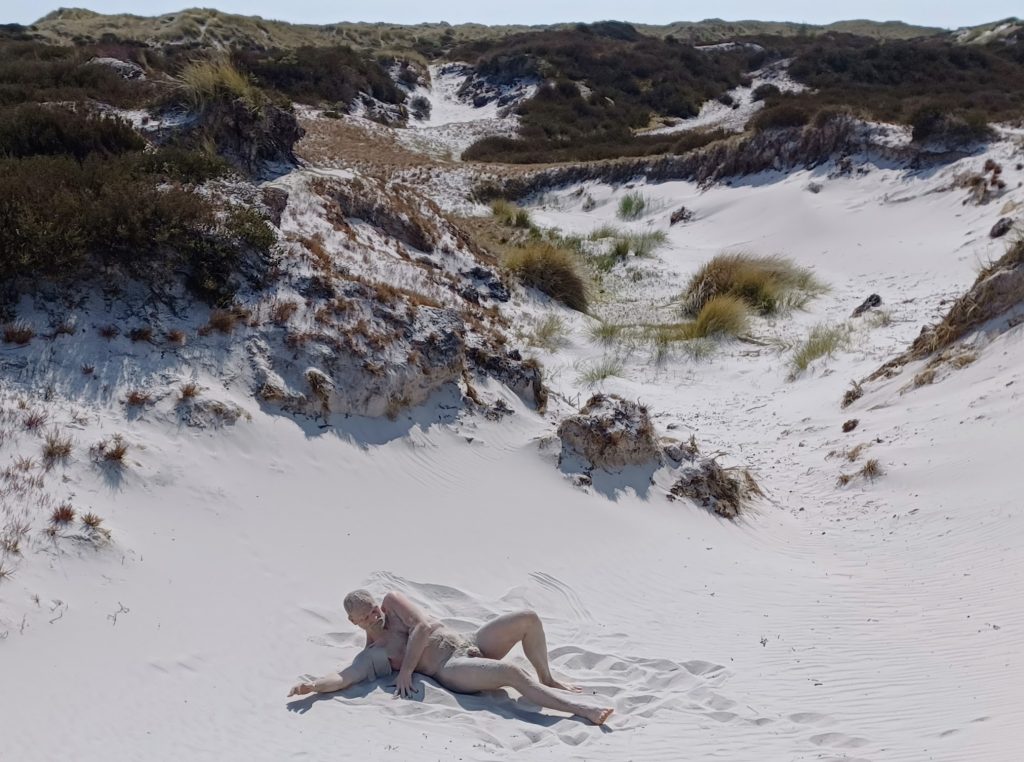 My location is Dueodde. As an investigation I have gathered a small group of people and through daydreaming we connected our inner worlds with the vast space of dunes, containing some of the finest sand in the world. In sensuous interaction with the flora and fauna of the dunes, we investigated how we are connected to the space and how the space connects us with each other. In this scenario we discovered common narratives which will be retelled poetically during the performance.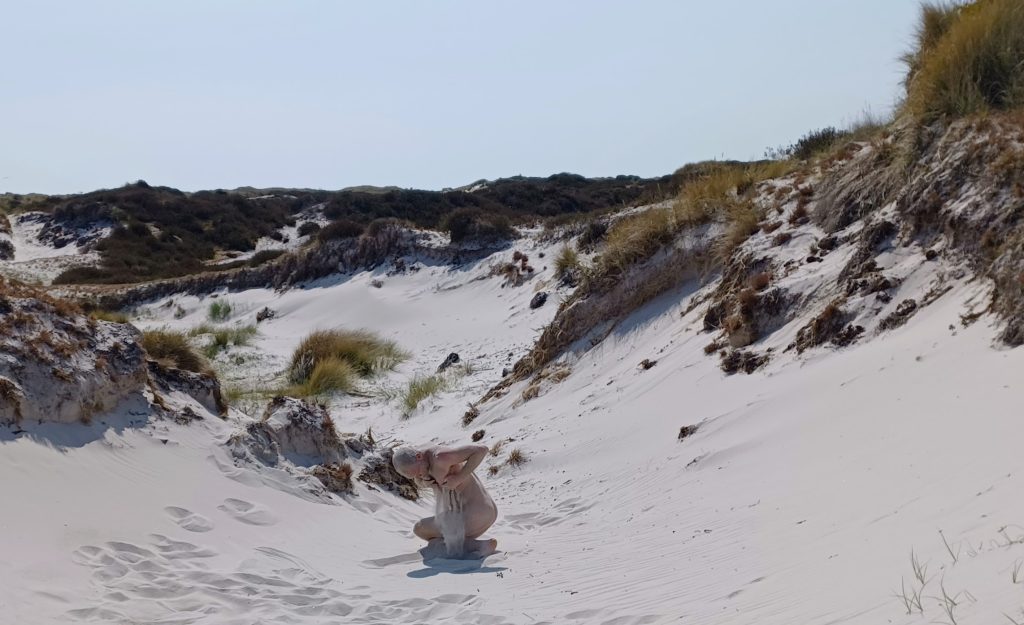 The two photos above and the three below is me investigating the dunes with my naked body. Being naked removes many cultural distances between me and the dunes, it intensifies my senses and I can surrender myself easier and more freely to the dunes. It is a way for me to intimately embody the dunes. Photos by Morten Sarkisian, June 1st 2023.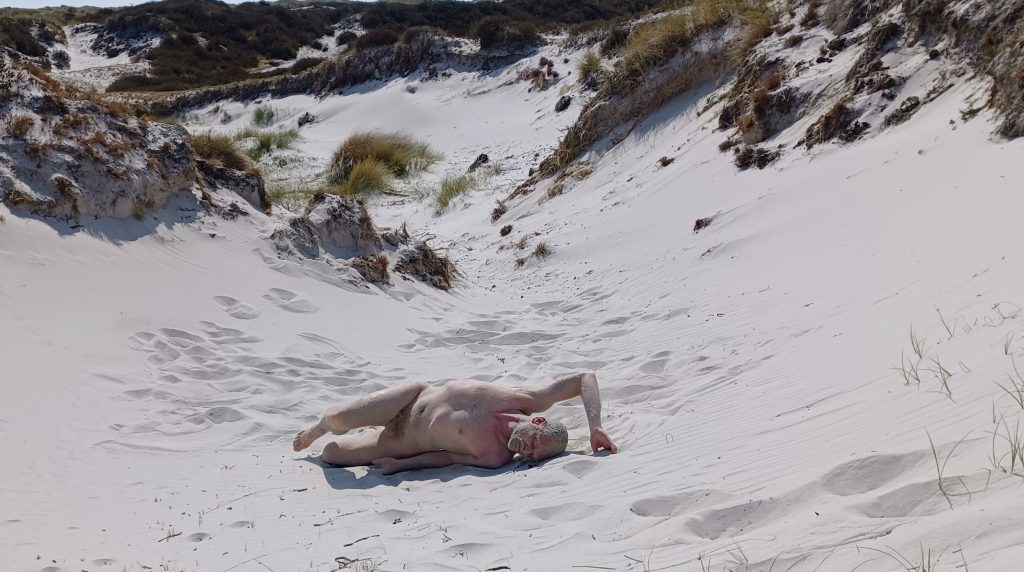 From may 1st-7th we had a preparatory residency at BIRCA. The photos below are from the residency.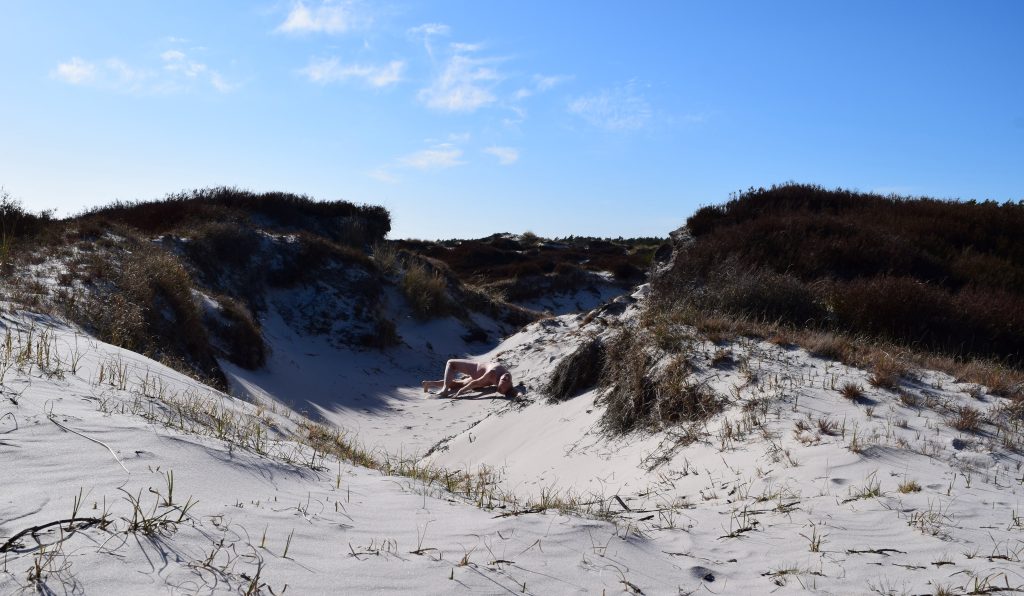 Below are some other photos I took during the residency. The first three are of Dorte Bjerre Jensen; the 4th and 5th are of rocks coloured by water from a spring containing airyfied iron oxid.
The other artist are Lene Degett, Dorte Bjerre Jensen, Ilon Lodewijks, Manon Siv, Katinka Wissing and Ben Woodhams.
Performing Landscapes is a part of the three-year project Metropolis Landscape 2021-23 organized by Metropolis – Københavns Internationale Teater with support from the Nordea Foundation and in collaboration with and with support from the local partners. The local partners on Bornholm are BIRCA and Kulturugen Bornholm.