State of Animals (2019-20) was a performative collaboration with performance artist Linh Le. We explore aesthetics of dehumanization. Our performance-research is called The Animal Empire – you are not invited.
Menu
Choreographic scores
We investigate what happens to the body when groups of people are compared to pests. We explore the bodily aesthetics inherent in the dilemmas and paradoxes we experience when compared to pests. We are motivated by our anger caused by the significant increase in hate crimes in public space. Anger has become part of our identity. It is destroying us and it helps to maintain the image of us as pests. We exhibit our anger in various contexts to investigate how to embrace its contradictory nature.
We experience various dilemmas and paradoxes which we use as choreographic scores:
When dehumanized, anger is our strategy of survival and the path to our self-extinction.
We accept the image of us as pests and yet oppose it.

If we on one hand resist the image, we will make the conflict worse and probably cause more hate crimes. If we on the other hand accept the image it seems that we let people treat us like pests. So we try to do both.

We want to belong but we create our own communities that separate us from others.
To some extent, we experience liberation in oppression.
Some prominent politicians compare us to pests when we threaten their worldview. But then those politicians are also pests, presumably, when they threaten our worldview.
Find common ground
Performance at Ubåden
June 22nd-25th 2019 we did a performative research at Bådteatret as part of Ubåden's program.
During this research we got closer to a body language that contain our common experience of dehumanization. It was expressed in a contradictory choreographic score: Find common ground. It is contradictory because, executing this score we found ourselves helping and fighting each other simultaneously. We were looking for a common form or shape to be in, balance in, move in together. It got very intense and fierce. From the outside we were told that it looked like we were fighting each other. This made us realize that in the act of helping we were giving each other space on one hand. On the other hand we were claiming each other's space. This score became our overall score. The score that the other scores referred to.
As part of the performance we had a panel of artists, politicians, advisors and researchers discussing the theme. A different panel for each performance. Associate Professor Karen Arnfred Vedel and Soundartist Eduardo Abrantes has helped us with questions for the panels.
The team of Ubåden:
Idea, concept & chorography: Linh Le & Peter Vadim
Dancers: Peter Vadim & Linh Le
Moderator: Eduardo Abrantes
Costumes: Maria Beydin
Sounddesign: Morten Sarkisian
Technique: Allan Hansen – Limepro
Photographer: Sebastian Mandel
Panel members:
June 22nd 2019 at 8pm:
Christa Breum Amhøj, External lector, Department of Management, Politics and Philosophy, Copenhagen Business School and Partner at SDG-Actionuniversity.
Gerard M. Samuel, Senior Lecturer, Head of Dance Section, Centre for Theatre, Dance & Performance Studies, University of Cape Town.
Laura Luise Schultz, Associate Professor, Department of Arts and Cultural Studies, University of Copenhagen.
June 23rd 2019 at 4pm:
Jørgen Callesen, Queer Performer, Curator and Artistic Director, Warehouse9. Ph.d. in Information & Media Studies, Aarhus University.
Morten Goll, Executive Director at Trampoline House – a community center for asylum seekers, refugees and other citizens in Denmark.
Storm Møller Madsen, Queer Performer and Part-Time Lecturer, Theater and Performance Studies, University of Copenhagen.
June 24th 2019 at 4pm:
Signe Flyvbjerg, Artist and Cand.mag. Modern Culture and Cultural Communication, University of Copenhagen.
Bettina Lamm, Landscape Architect and Associate Professor at the Landscape Architecture and Planning division, University of Copenhagen.
Asrin Mesbah, Cand.jur. and counseling coordinator at Trampoline House – a community center for asylum seekers, refugees and other citizens in Denmark.
Kristine Samson, Associate Professor at Visual Culture and Performance Design, Roskilde University
June 25th 2019 at 8pm:
Upeka Abeynayake, Ethnologist, activist and member of several boards including DRC/Documentation- and Advisory Center on Racial Discrimination, IMR and Pluralisterne.
Naja Lee Jensen, Artist and artistic director of HAUT – experimental stage for independent groups and performing artists.
Jens Tang Kristensen, Postdoc. Department of Art and Cultural Studies, University of Copenhagen, and co-author of the book Becoming Animal.
Rasmus Nordqvist, Member of the Parliament for the Alternative and spokesman on foreign affairs, the EU, climate, peace and defence, cultural affairs and LGBTQI.
Trailer
A trailer of the performance at Ubåden is made by Sebastian Neerup Mandel:
Podcast
A podcast in two parts is made by Eduardo Abrantes, who was also the moderator of our discussion panels.
The podcast is a poetic mix of extracts from the panel discussions in Ubåden, sounds from Linh's and Peter's performances and an underlaying soundscape made by Eduardo. Listen to both parts here.
Short film
A short film by Frigge Fri:
Our intention is to make our investigations part of public space, because this is where minorities like us are discriminated and dehumanized.
In this film we are trying out our choreographic scores in a public location that contains our definition of contradiction: On one hand it is calm feelings from an idyllic field of daisies next to a pond. On the other hand it is aggressive feelings from a very noisy highway.
Flyers
We made flyers inspired by the artist group PESTS. The flyers are statements of our anger on one hand. On the other hand they express the various contradictions, dilemmas and paradoxes explained earlier. Each flyer suggests a choreographic score that puts the statement of the flyer in perspective.
We hired Storm Møller Madsen as a consultant in the process of developing the flyers.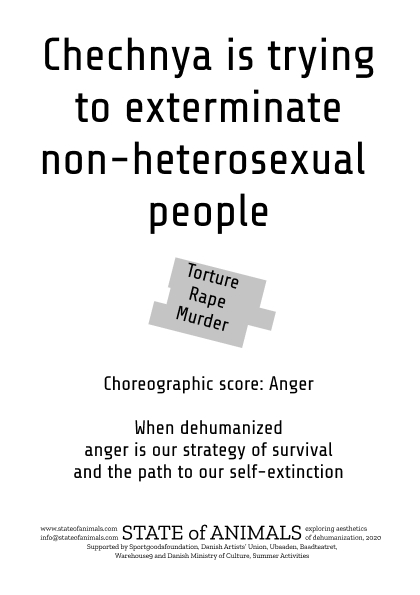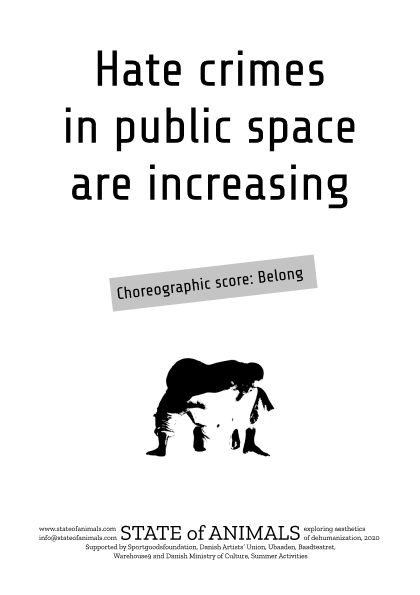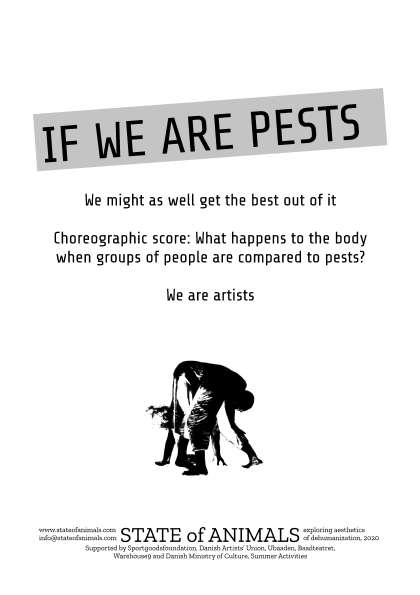 Exhibition and performance
September 2020 we did an interactive exhibition in Warehouse9. It lasted 5 days. It consisted of the film, trailer, flyers, podcast and objects from performances, film and workshops. Guests were encouraged to try out the choreographic scores of the flyers, enter our dog cage and write down their experiences with dehumanization.
On the first day we did two workshops, one with dancer and choreographer Andreas Haglund and one with performer Trine Trash.
The last day we did a performance. The performance was based on the workshops and how the guests during the rest of the week interpreted the exhibition through conversations, impressions and their experience of dehumanization.
Flyer made in cooperation with Andreas Haglund:
Flyer made in cooperation with Trine Trash: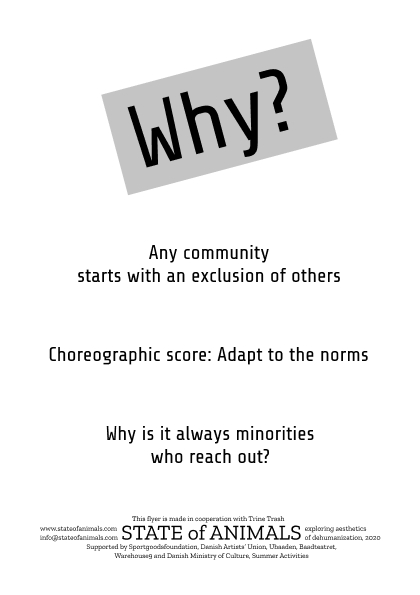 About
State of Animals creates awareness on the aesthetics of being compared to pests. In the aesthetics lies the beauty, ugliness, tragedy, objectification and humour of dehumanization.
We are Linh Le and Peter Vadim. Linh defines herself as non-dane and Peter defines himself as non-heterosexual. We have both experienced being compared to pests. We accept the image of us as pests in the sense that, if we are pests, then all human beings are pests.
This creates another issue, because many people all around the world are being defined as non-human. We question that, by exploring the differences between humans and other animals.
We are both choreographers and dancers/performers. Also, Linh is a performance designer and Peter is a landscape architect. In combination we explore how dehumanization is expressed bodily in public space.
Examples of prominent politicians presumably comparing various groups of people with pests are Chechnya's President Ramzan Kadyrov, Brazil's President Jair Bolsonaro, President of the United States Donald Trump, former Danish Minister of Integration Birthe Rønn Hornbech and former chairperson of the Danish People's Party Pia Kjærsgaard.
At the same time, there is a significant increase in hate crimes in public places. We believe there is a connection. And this is our motivation for doing this performative research.
Our performative research is called "The Animal Empire – you are not invited".
Linh Le and Peter Vadim have developed their methods in other projects since 2016: Landscape Scenographies, For a Moment: Singularity and Vejret nu.
We are visible on Instagram and Facebook
Support
The Animal Empire – you are not invited is supported by Sportgoodsfonden, Danish Artist Union, Ubåden, Bådteatret, Danish Ministry of Culture – summer activities and Warehouse9